Transparent self-adhesive labels for jars with honey from the Apiary of the Sadowski Family
Honey from the Apiary of the Sadowski Family​ is a pearl among Polish apiculture. Apart from traditional products, the Sadowski Family Apiary offers flavoured honey with raspberries or mint to mention but a few, but also soaps and candles with beeswax. The owners have given the same care and attention to the jar labels ​for their products as they did to developing their unique taste. Irena, who is responsible for the day-to-day development of its online store (https://pasiekisadowskich.pl/kategoria/miody), filled us in on the details.
At the Apiary of the Sadowski Family we have always been very focused on the exceptional appearance our honey jars and apiculture products. On the one hand, we offer our customers the highest quality all-natural product—honey, but we are also very aware of just how important are the aesthetic values to our customers that our jars bring to their homes.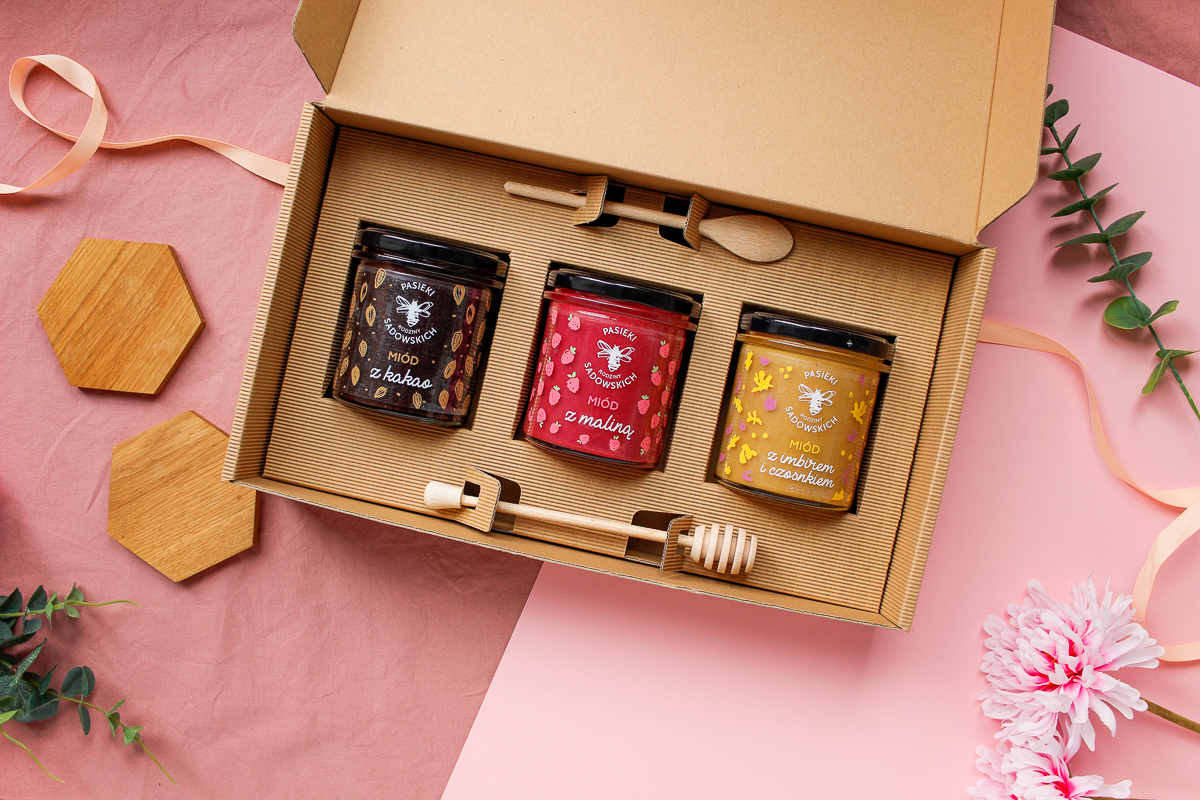 Honey from the Apiary of the Sadowski Family - clear jar labels
Who is behind the self-adhesive label design?
Iwona Jasińska, artist and graduate of the Academy of Fine Arts, is responsible for the design of our products and the visual aspects, including our jar labels. The presentation of a product that positively stood out from among the food and drink product market rapidly gained recognition from our customers, who came to greatly appreciate the exceptional appearance and artistic edge of our products. A well designed and well printed label for honey is what counts!
Label design ​is a long creative process that often gives rise to several label versions. Together, we then consider which of the design options would look better on the end product and this can be assessed only once you actually have the product in your hand. The possibility of getting free label print samples​ is absolutely great for this. We find it works best to order two versions which we are unsure about and, once the print proofs are ready, we stick them on to our products. It is at this end stage that we decide which of the labels is most fitting to our product and to us as a company and, most importantly, which our customers will find most appealing.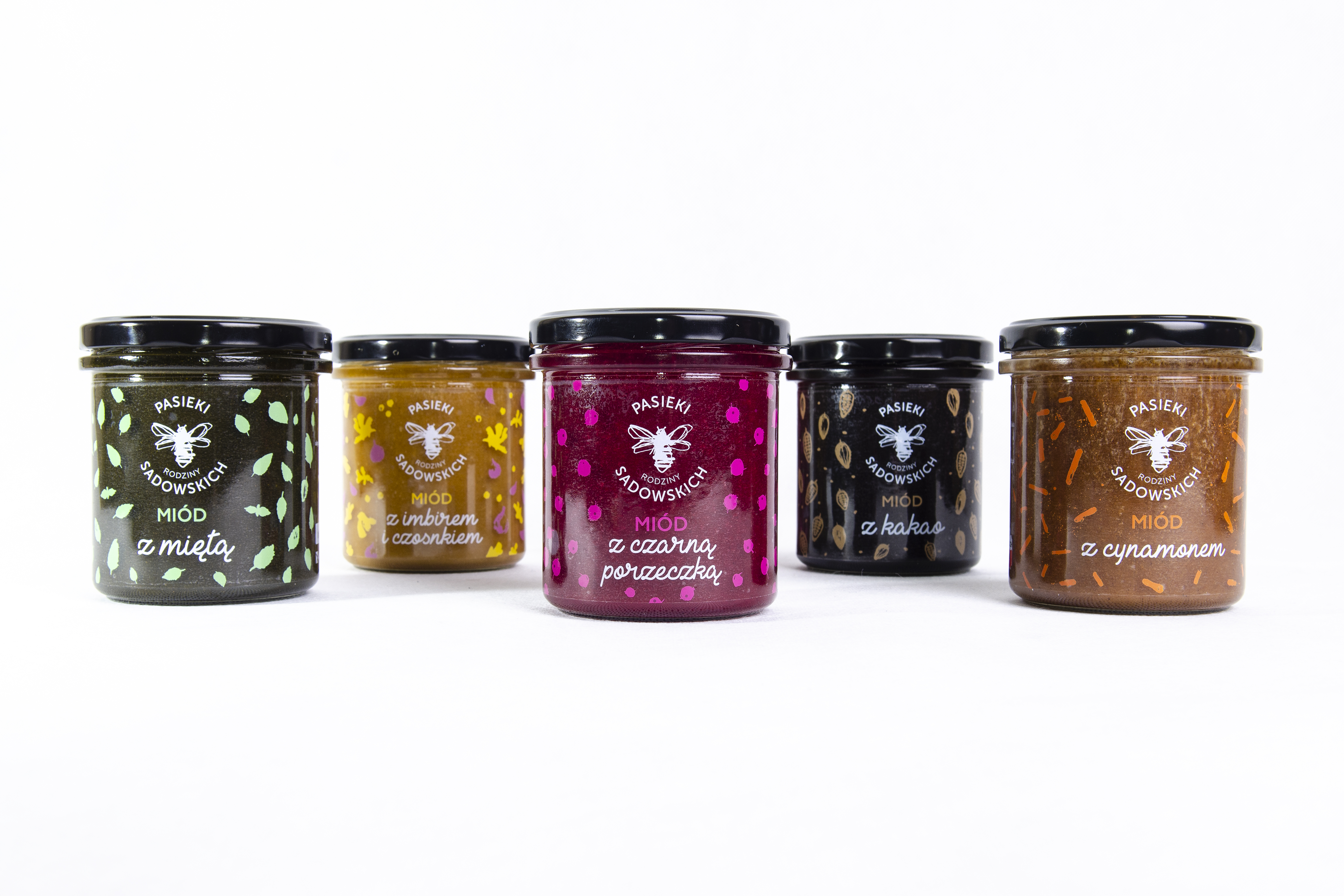 Film honey jar labels
You ultimately opted for clear labels - why?
When we added flavoured honey with natural ingredients to our offering, we noticed that they themselves are simply beautiful. Adding freeze-dried raspberries to our honey gives it a pink colour, blackcurrants give it a maroon colour, and cinnamon gives it a soft, warm brown colour. Placing the jars with different flavoured honey options alongside each other revealed a true spectacle of colours created by nature! The question was how to label a jar without obscuring its contents? Iwona designed clear jar labels that only contain the product information and minimalist graphical elements—the label itself is made of transparent film. That is when the Unilogo Digital Printing House came to our aid, which printed this unusual concept of ours so perfectly. The labels show the contents of the jar, inform our customers about the product, and adhere securely to it. Placing this order with them made us stick to the Unilogo Digital Printing House from there on because we have found that they can execute the boldest creative ideas and go that extra mile to meet our needs.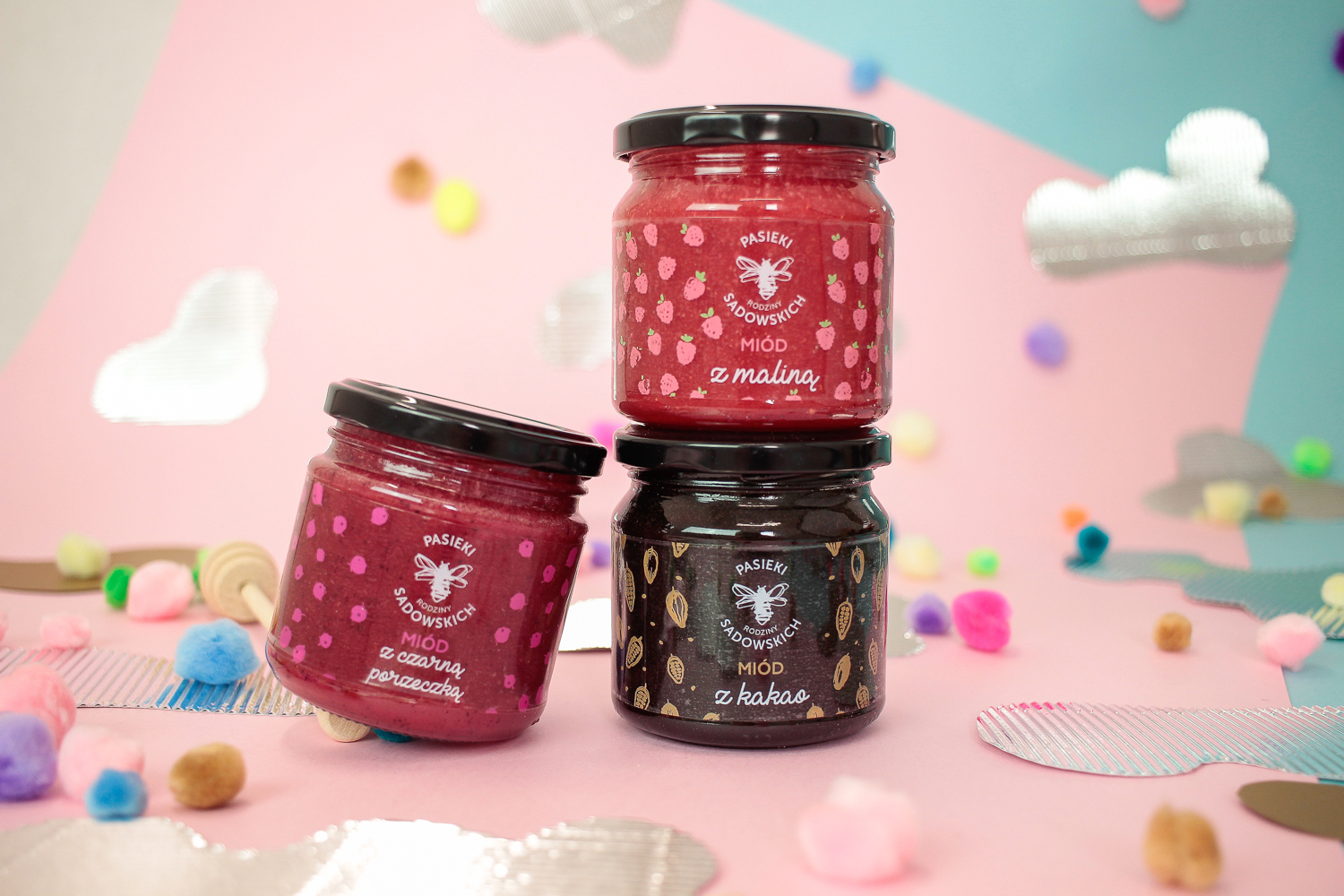 Ultra-clear film produces the no-label effect on the honey jars
Transparent labels, ultra-clear labels, no-label look labels – what are the differences between them?
Transparent film can be divided into ultra-clear polypropylene (PP) film and transparent polyethylene (PE) film.
The difference between these two label materials are visible almost at first glance.
Polypropylene (PP) ultra-clear film is crystal clear and blends perfectly in with glass surfaces. This gives an effect that imitates glass printing, just like in the case of the Desperados glass beer bottle labels. It is important to bear in mind that this kind of material is intended for regular shape "hard" packaging and requires machine labelling.
Transparent polyethylene (PE) film is more flexible and stretchy, which is also why PE film labels are used on packaging of an irregular shape or that are pliable during consumer use, like plastic tubes that can be squeezed and bent all the time to push out the product. What's more,​ polyethylene labels are not that transparent ​and will not produce the "no-label look".
We have also given you the low-down on other types of self-adhesive label materials​.
The products of the Apiary of the Sadowski Family were awarded the prestigious "Let's appreciate what's Polish" and "Top Product" quality labels.
The blackcurrant flavoured honey also won the Laurel of the Marshal of the Mazovian Voivodship.