How to print labels for the alcohol sector?
Standing in front of the shelf with alcohol, we either choose a bottle in a blink of an eye, with content already well known to us, or we consider for a while whether we should try something new. Dull labels lose out at the start, they don't even draw our attention. We will reach for those interestingly designed, carrying value, history, intriguing and visually appealing.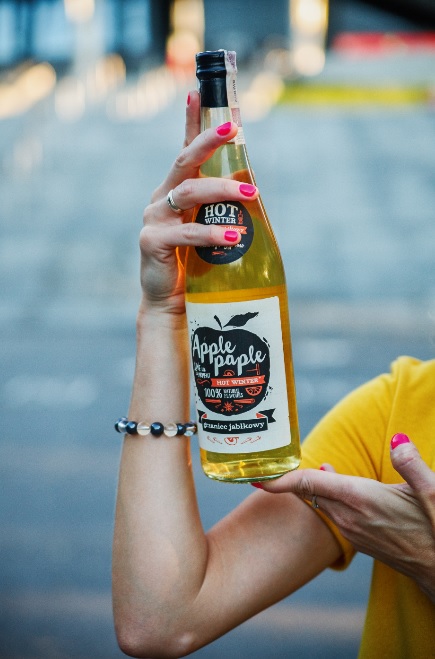 Great designs do not always automatically translate into eye-catching labels. The end result is created by the entire process of printing the bottle self-adhesive labels, whether it's specialty printing or bottle shape challenges.
Here are some factors to consider if you want a self-adhesive label to draw attention to a product.
Glass quality determines the quality of the bottle self-adhesive label
How glass is produced is quite an important element which has a key impact on the appearance of the final product and on the labels themselves. In order to reduce costs you can choose thinner walls, but these can be irregular, corrugated. In this case, even high quality labels will not raise the profile of the product. On corrugated surfaces labels will not lay precisely, they may peel off easier, bubbles and deformations may appear.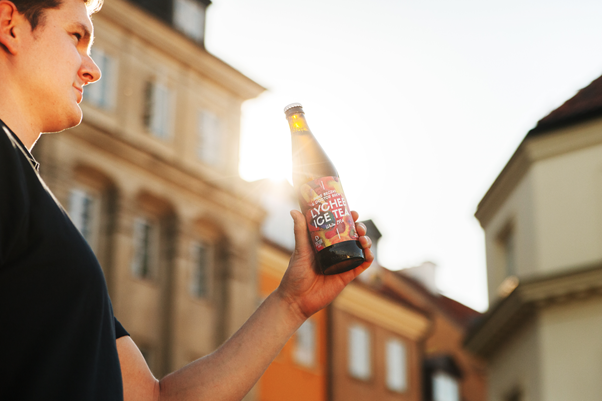 Potential problems with label application
Bottles and alcohol labels can come in countless shapes. A successful design depends to a large extent on whether we are able to stick the finished label to the bottle properly. After all, each of them is supposed to form an inseparable whole.
Before making a final decision on the shape of the label, you should check whether you have a suitable label applicator for the bottles. We may want to print a full wrapper label for a cylindrical bottle, but we don't have the equipment to apply it professionally. In such cases, it is worth considering outsourcing the labelling to an external company.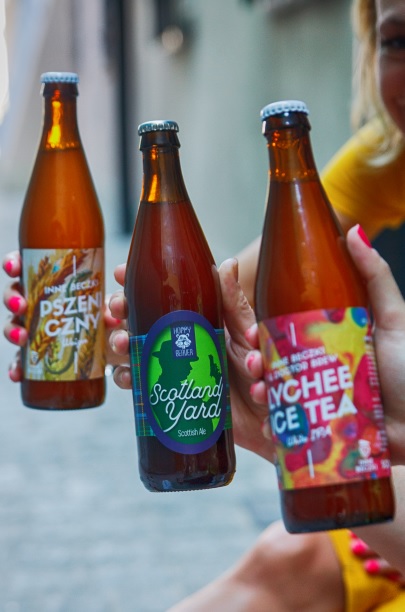 If we opt for classic, simple forms, the application of labels will be less demanding. However, entering the market with a new, unknown brand, which is going to start vying for attention and trust, more sophisticated, non-standard forms will be a good "weapon" distinguishing the bottle on the shelf. In the event of more complicated shapes, it is necessary to make sure that we have the right equipment or that we have a budget that can be spent on additional costs associated with labelling. It is extremely important that the label presents itself perfectly on all edges, notches or other irregular shapes. For small numbers it is, of course, possible to apply the label by hand, but this will be extremely cumbersome as the print runs increase.
The shape of the label itself can also be problematic. Some details, such as sharp corners or cut-outs within a label, can lead to the label tearing apart during the application process. It is worth discussing this with the designer and deciding whether it is better to modify the design slightly, in order to avoid damaged labels.
Which finishing of the label to chose?
The design of the label on the monitor screen may look great, but only after printing will we fully feel the power of the design. Matt labels create an impression of delicacy. Their flat surface represents class and promises us a high quality product. Glossy labels that stand out with their appearance, clear form and distinct colours will look elegant.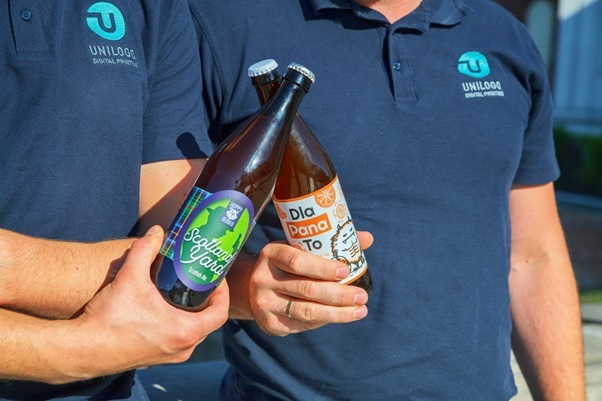 Let's not forget that flat surfaces of both matt and glossy labels can be given an extra 3D effect. Embossed details on labels or notches give the label its style and character. It is worth considering the use of innovative heat shrink labels, which take on the shape of the bottle on which they are applied. These labels are spectacular and stand out from the rest in that they can be applied to almost any shape. They are perfect for limited editions, such as the release of beer from the Green King brewery, where 10 unique moments in the history of sport have been immortalized on labels. Heat-shrink labels may contain text or any graphics of photographic quality. The attractiveness of the label can be further enhanced by options such as UV-cured coating, cold gilding, additional Pantone colours and printing on the inside. In addition, each label can be personalised as needed.
In the whole process of designing labels, we must not forget about the quiet hero, which is the printing house itself. In order to have as many options as possible, it is advisable to contact the printing house, which offers free sample prints. If you have several variants to choose from with different finishes or enhancements, the free proofing option should dispel any doubts. Receiving a free trial print is not complicated at all, as our clients from AYA Raw Nature have found out.