Types of wine labels - what should they look like and how much do they cost?
Wines are an elite segment among alcohols. The dynamic increase in vineyards on home soil is making this alcohol more widespread and popular. At the turn of 2009 and 2010, there were a mere 26 vineyards registered according to the National Support Centre for Agriculture yet just a decade later, Business Insider* reported over 230 vineyards. Difficult to believe, isn't it?
The mentioned growth is generating the need to produce high quality wine labels for wine producers. Here are some answers to several questions concerning self-adhesive labels printed using digital technologies.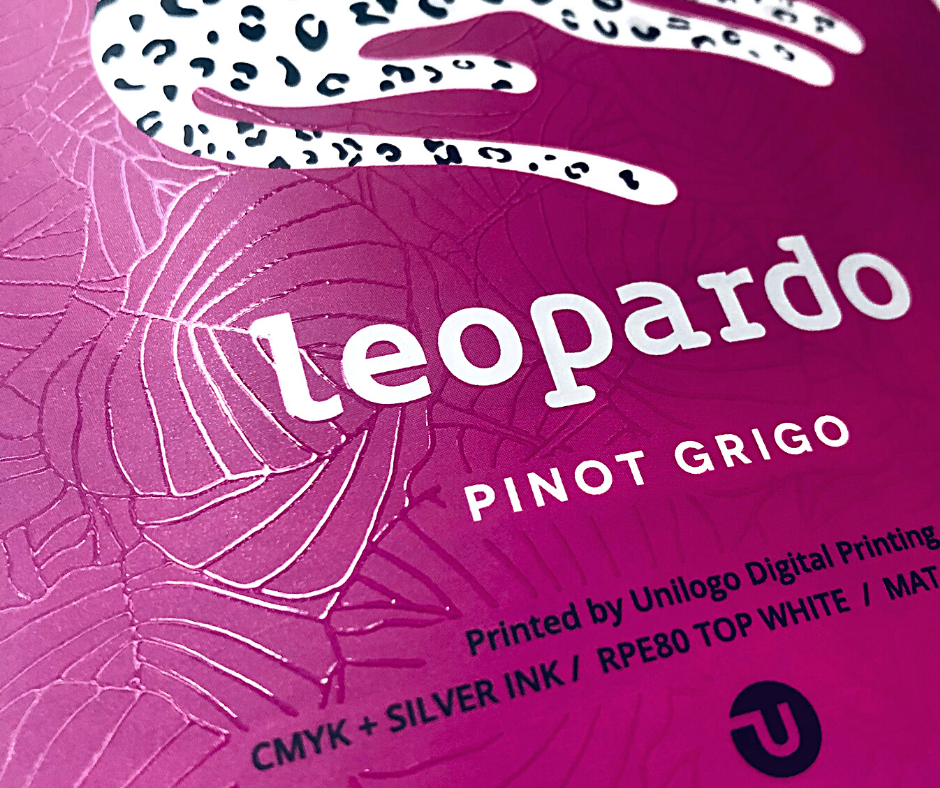 Where can you get your wine labels printed?
It would be best to get them printed in a dependable label printing house that you have confidence in. Here is Barbara Płochocka's account of what was key when reaching out to the Płochocki Family Vineyard:
"Two things were important for us. The close proximity of the printing house to our home and the ease and convenience of direct personal contact with the staff, which was paramount at the start of our cooperation."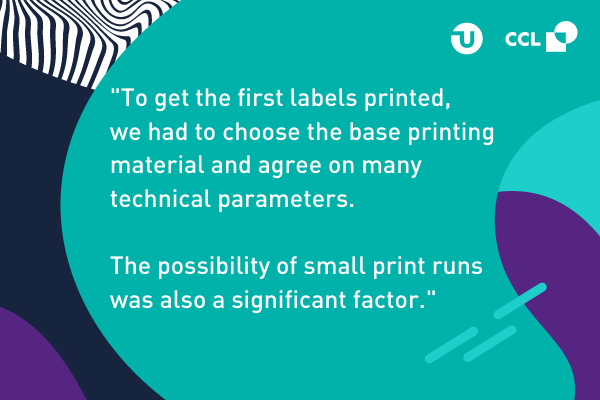 We have successfully completed many self-adhesive wine label printing projects, which is why we'd love to share our experience with you and answer some of the key questions that are asked when designing and producing wine labels. Digital label printing on HP Indigo digital presses offers a plethora of possibilities, including custom label printing.
I have several wine label options but don't know which to ultimately choose?
This is a common problem among our Clients. We know all too well how difficult it is to decide on a specific label for a given wine bottle if all you've seen is a design on a computer screen. Unfortunately, our expectations and conceptions of the final effect may often not be duly reflected in the printed reality. We have a way of getting around this key issue, making sure there are no disappointments. Print proofs of self-adhesive labels are just the solution to this problem. Digital label printing houses make production possible directly from a PDF file, eliminating the need to prepare printing forms and they provide quick turnaround times!
That's right, we will print your wine label for free!
The HP Indigo press delivers superior and unparalleled digital print quality which is why we are so sure of the quality we provide and we want to share this success with others. This is also why we offer complimentary print proofs for wine bottle labels. The same machines that we use at the Unilogo Digital Printing House are harnessed to produce custom projects for Coca-Cola and Nutella, to mention but a few.
As Barbara Płochocka put it: "Since we're changing our labels this year, a print proof on different materials will allow us to choose the best solution for the given wine bottle".
How can I get a free wine bottle label print proof?
We're a digital label printing house that produces roll self-adhesive labels. Free print proofs for wine bottles are provided in the form of a sheet that has been cut off the roll. This accelerates the turnaround time for a project as it bypasses the die cutting stage. You can cut your design out on your own using scissors and simply stick it on the bottle. The labels are, of course, die cut at the final production stage using a dedicated die and are then wound on a roll.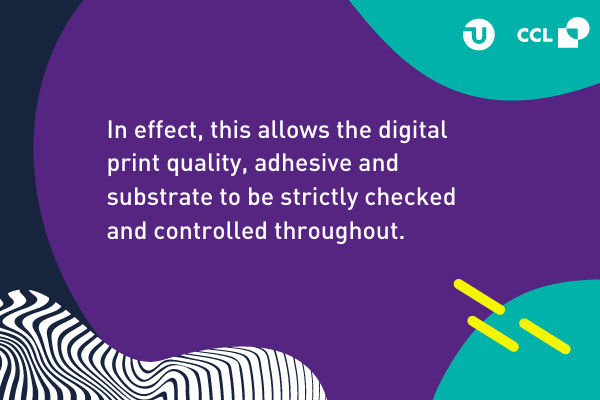 Storing wine with a self-adhesive label in standard fridge or freezer conditions should allow you to assess its durability and resistance to the action of unfavourable external factors.
In the film below you can see just how self-adhesive label print proofs are made.
Producing wine label proofs in this manner is not labour intensive and all you have to do is send us the self-adhesive label design. In effect, we will deliver appropriately secured and protected digital technology prints to you by UPS courier service within 3 business days only! Needless to say, there aren't any hidden costs or obligations.
How to go about designing your wine label?
Keep to these basic guidelines and enjoy prepping your print proof, sending it to us to print.
First things first:
Every wine bottle label should be saved in a separate file.
All the text should be converted to outlines.
Every file should be exported to a composite PDF file.
The die should be defined as a special spot colour "die line"; possible registration should be outside the net area; another option involves not setting a die line in the project.
There should be a bleed gap size of at least 1.5 mm on each side.
There should be at least a 1.5 mm gap between the edge and any graphics that are to be located in the self-adhesive label area.
The rest of the instructions on preparing metallised film labels or HS can be found in the downloadable and printable file HERE.
What should a self-adhesive wine label look like?
The vital product information to include in wine labels are the year, the country of origin, the grape variety, and suggestions concerning the storage conditions as well as food pairings.
It's also important to remember that a self-adhesive wine label, apart from meeting its basic informative role, also fulfils the function of attracting attention and distinguishing the wine from its competitors. If the customer is set on buying a specific grape variety, they will often make their choice based on the wine label. That's why it really is worth putting in the extra effort to your wine label design to achieve the desired WOW! effect.
The first stage involves selecting the right material for your label. Our printing house stocks classic, 'laid' textured vergé wine label paper. The natural, uncoated, pale cream paper with its classic, horizontal ribbed texture will undoubtedly provide great character to your bottle label.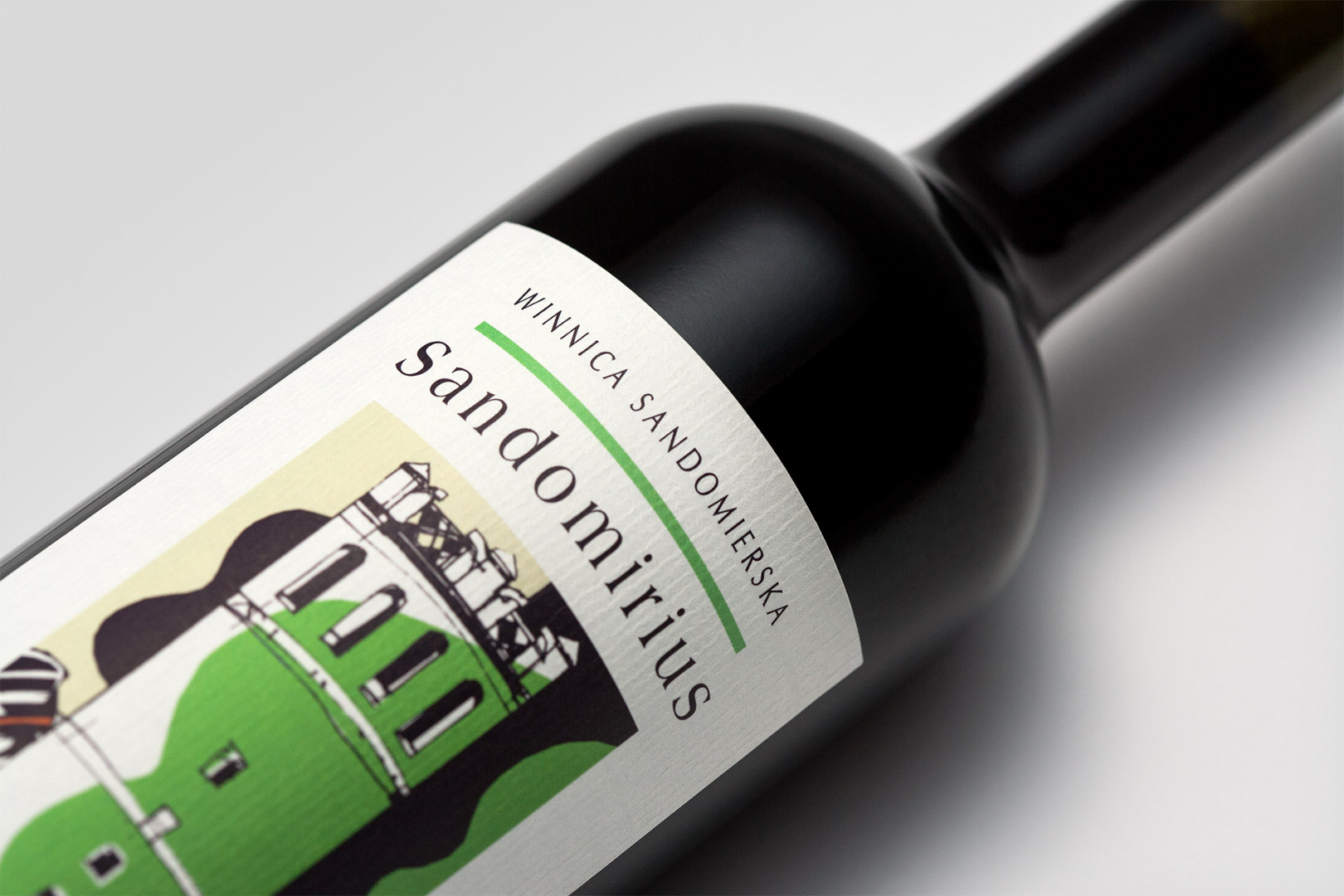 Since it has been vigorously tried and tested in a wide range of different conditions by thousands of satisfied customers, you can rest assured that the chilling process of a bottle with a vergé label will not lead to label tearing or wrinkling.
Nevertheless, we fully understand your concerns which is why we would like to encourage you to try out our free print proof service.
How much do wine bottle labels cost?
This is a frequent question that is difficult to definitively answer at the time of the first telephone contact. We approach each project individually and prepare a tailored offering and quotation specifically for you. All you have to do is answer a few standard questions on our enquiry form, which will allow us to present you with a solution that is tailor made for your specific wine bottles needs.
*https://businessinsider.com.pl/lifestyle/jedzenie/liczba-winnic-w-polsce-uprawa-winorosli-i-produkcja-wina/jfh4v3k