Candle labels - How to go about choosing them? - Interview | Unilogo Digital Printing House
Soya candles are a welcome and increasingly popular addition to the home that lighten up and warm those gloomy, autumn evenings. Their unique aroma and calming ambience are just a fraction of their many advantages. Self-adhesive labels on scented candles are unavoidably exposed to high temperatures. What can we do to ensure that the labels handle the heat? It would be wise to turn to a digital printing house that has successfully completed many scented candle labels and has the right label substrates to achieve this.
We recently had the pleasure of printing self-adhesive labels on roll for the successful début of DeLight Candles. Mateusz Wawryszuk shared some of the secrets to this success, explained why soya candles have such magnetism, and what made him choose certain substrates over others. We recently had the pleasure of printing self-adhesive labels on roll for the successful début of DeLight Candles. Mateusz Wawryszuk shared some of the secrets to this success, explained why soya candles have such magnetism, and what made him choose certain substrates over others.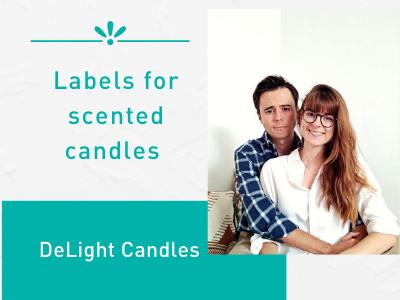 - What sparked the bright idea for DeLight Candles?
We always dreamt of having our own production workshop where we could create natural and eco-friendly products. We came across soya candles several years ago and completely fell for them. After a long search, we finally found candles that didn't give us a headache when burning and had a fresh and pleasant aroma. What's more, thanks to the soya wax, the candles burn much slower, lasting much longer than ordinary paraffin candles. Gradually, by trial and error, we started to create our own compositions until the idea came about to combine these two passions of ours – candle making and literature. Literature, because it was precisely then that we enjoyed burning the candles the most. Just picture it... a cool evening, your favourite tea, cosying up with a book and, to top it all, a wonderfully relaxing and atmospheric aroma of a scented candle. In today's hectic and busy world, we really need moments like this to just switch off and wind down. We wanted to craft a product that would somehow encourage people to do just this!
What was the inspiration behind your scented candle label design?
They say you shouldn't judge a book by its cover. And this idiom perfectly fits the scented candle market where the scent plays a key role. We came to the conclusion that simple labels would not give across the atmosphere that we want to convey. We needed something that would create a "wow" effect. It was our favourite books that were the inspiration behind the scents, and we wanted the Client reaching for our candle to be able to recall those book memories and emotions that accompanied them when reading their favourite book, even before they actually smell the candle.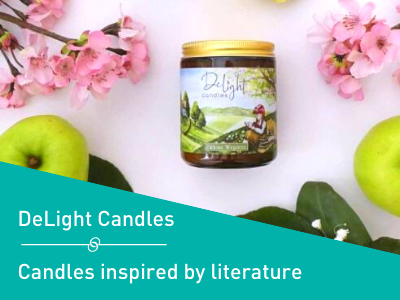 The labels were designed by Magdalena Starzyńska. The illustrations were hand painted in watercolour. We think that they perfectly give across the very atmosphere that books create. The very minute we set our eyes on the design, we just knew that it was the right one. And since we now had our dream label designs, we needed a very good printing house to execute the idea…
- What were the decisive factors in choosing the Unilogo Digital Printing House?
To tell you the truth, we didn't have very pleasant experiences with the previous printing house that we tried working with earlier. The contact was severed and we were left high and dry.
So, we went about looking for another printing house and your company came across not only as reliable and professional, but also one that's run with great passion and dedication. It was a real pleasure to read the articles in the Inspirations tab.
- How did our printing house help you bring your project to completion?
Mostly, by successfully executing the whole order. Contact with you was absolutely fantastic. We knew from the very first phone call that we have finally reached the right people.
- Were you set on a specific candle label substrate from the start?
No, at the previous printing house we were offered one substrate that we could print our labels on, so we only had a very hazy idea of what we want to achieve. But after the very first phone call to your printing house, Daniel proposed several self-adhesive label substrates so that we could see for ourselves what the labels will ultimately look like. There weren't even any problems with adding additional embellishments for us to see the effects they produce on the print proofs.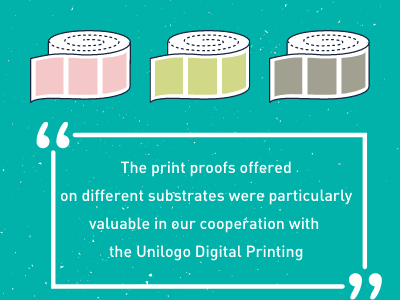 - Did the free self-adhesive label print proofs help you in executing your project?
Definitely. You really have made our lives much easier. The labels look a bit different on each particular substrate. Thanks to this, on the one hand, we knew which way to go with any colour adjustments and, on the other, we could see how the labels behave on the candles themselves. Every substrate had a different transparency, which ultimately gave different effects when the candle was burning. This also greatly facilitated the decision-making process regarding the choice of the final substrate.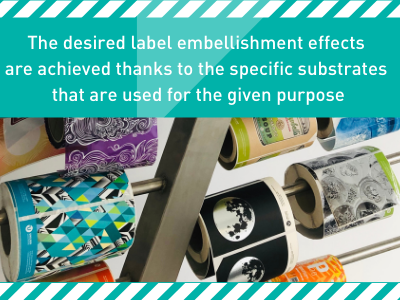 Initially, Mateusz tested three substrates:
- White film,
- Silver film, and
- Vergé textured paper.
The silver film brings out the metallic effects on labels without any additional costs (e.g., buying printing plates as in the case of hot-stamping special effects and finishes).
Vergé paper has a ribbed texture that makes the labels look so unique.
Mateusz ultimately decided to apply white film on the candle jars as it turned out that such self-adhesive labels let the light of the burning candles pass most effectively, creating a truly exceptional aura while burning. If you want to see this unique effect for yourself and you're an enthusiast of original scent compositions, pay a visit to DeLight Candles and see what they have to offer.
If you're thinking about how to choose the right label substrate for your product, go to the entry presenting film substrates.
It's also worth reading the piece about Self-adhesive wine labels. That's where you will find out exactly what you should be looking out for when wanting to execute your printing projects, according to the Kędrów Vineyard.