Digital print has transformed the image of the Lithuanian spirit. What effects has this had?
The trend for unconventional, attention-grabbing solutions in the packaging industry is still ongoing. Unique labels can give every bottle of alcohol the sought-after style and character to capture consumer attention. This too was the approach taken in the case of Lithuanian Originali.
Lithuanian Originali, a high percentage spirit alcohol from Lithuania is known for releasing new limited-series. Apart from the fact that it has exceptional flavour and an original recipe based on natural ingredients, it effectively stands out from other proposals in the spirits industry. This year, the producer opted for cutting-edge solutions harnessing the potential of HP Indigo digital print and SmartStream Mosaic software. The end result was one thousand unique vodka labels. This is a complete novelty on this market.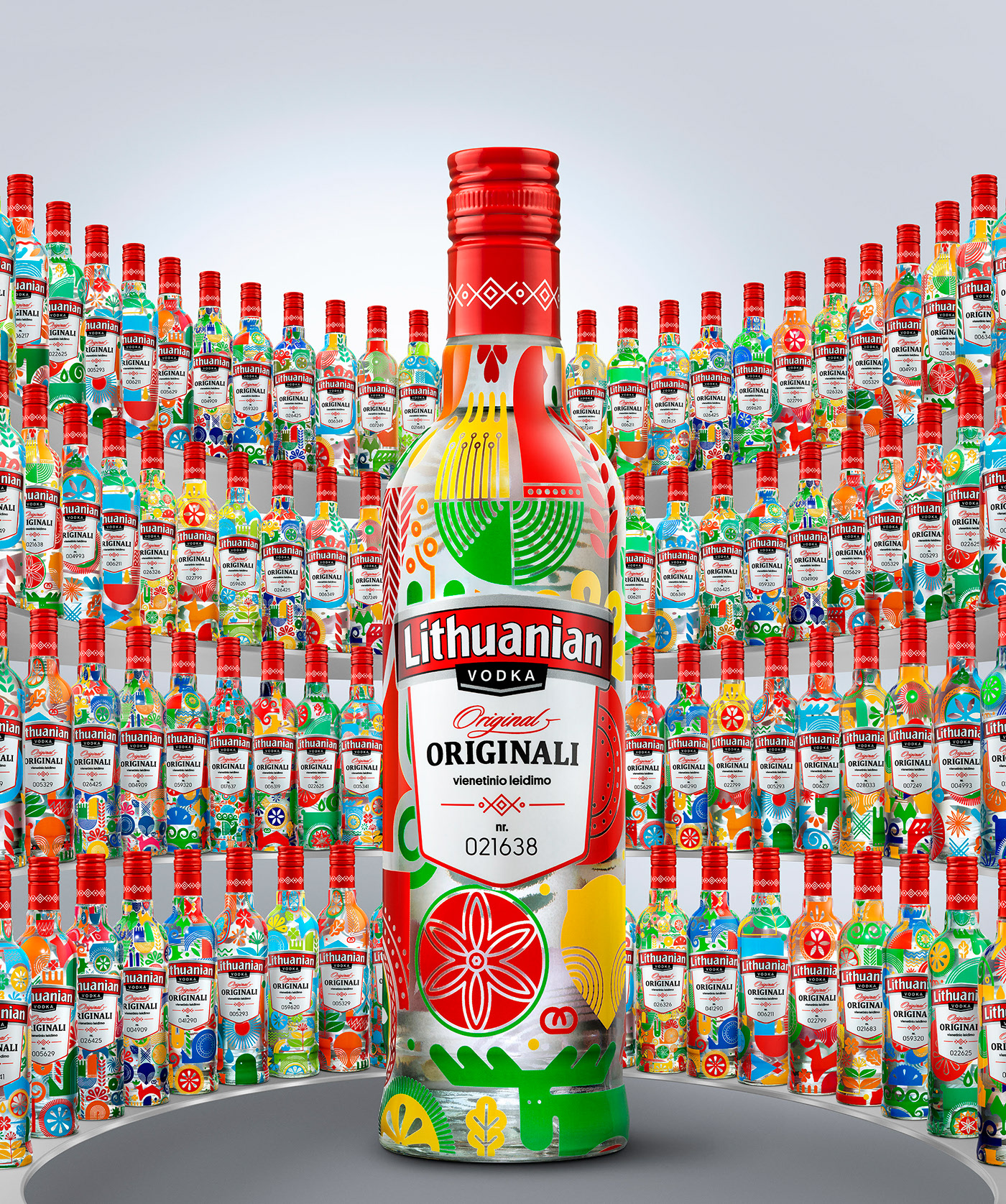 Source: https://www.behance.net/gallery/97433949/Lithuanian-Vodka-limited-edition
Shrink sleeve labels - the labels that shrink to fit once heat is applied
The original concept for the unique vodka bottle labels was born at Etiquettee (Vilnius). There is indeed a name behind the first, unique design executed in Lithuania—designer Gabija Platūkytė. The Lithuanian Originali label design was to be exceptional in every way and these assumptions have successfully been fulfilled. This pioneering execution was possible thanks to HP's SmartStream Mosaic algorithm that transformed a huge patterned illustration (approx. 1 sq.m.) into 100,000 unique labels adorning Lithuanian Originali vodka bottles.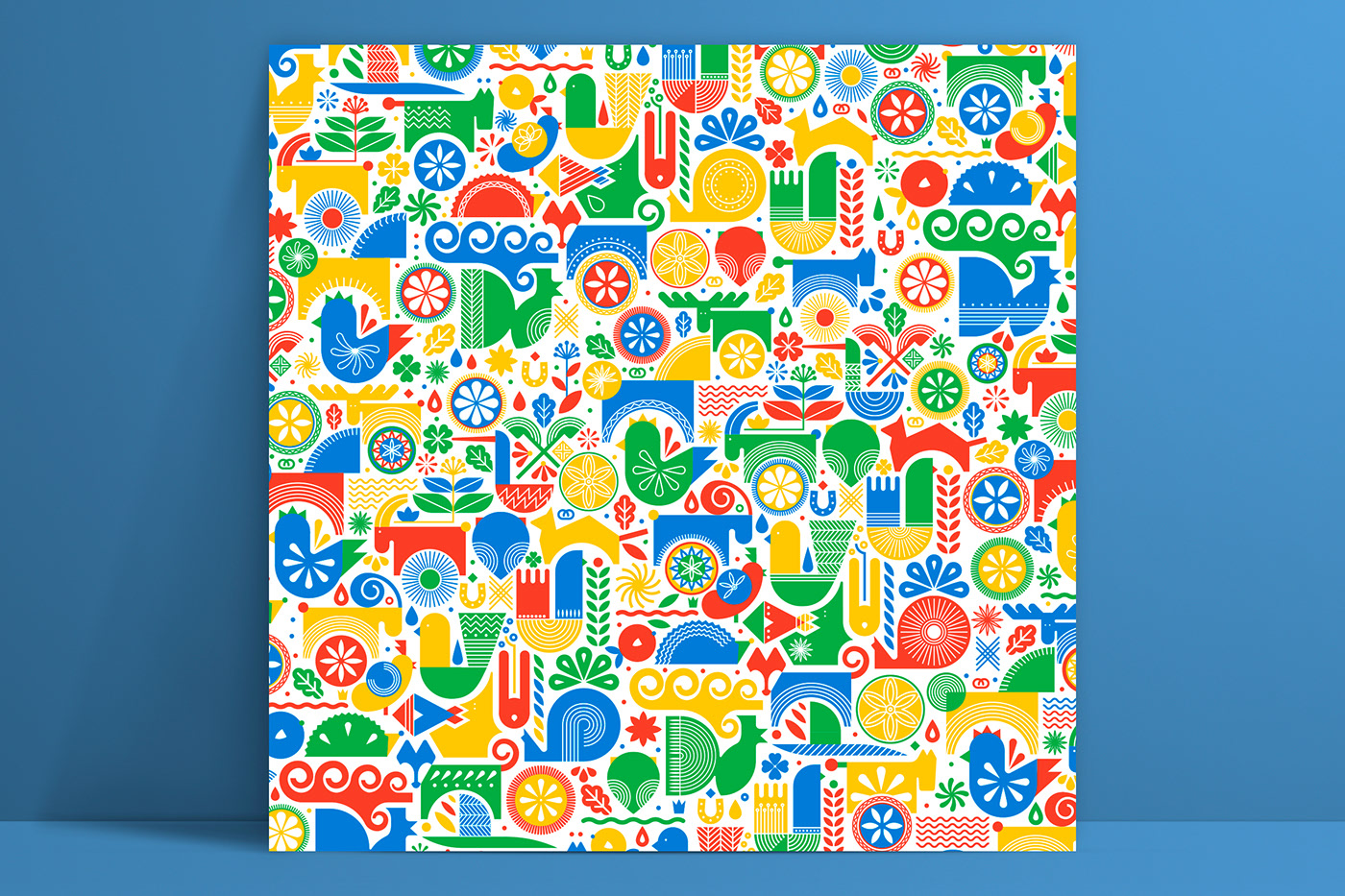 Source: https://www.behance.net/gallery/97433949/Lithuanian-Vodka-limited-edition
Unique heat shrink labels for alcohol bottles
The first thing that arose was a multicoloured design—Gabija Platūkytė had to factor in that the product is strongly identified with its country of origin, which is why she decided to retain its true essence. Hence, the graphics are instantly associated with Lithuanian folktales and fables and the national events and festivals celebrating spring. Thus, the elements of nature and household and farmstead animals used in the design come as no surprise. Then, thanks to HP's SmartStream Mosaic algorithm, the huge print covering 1 square metre was transformed into 100,000 unique labels using 15 colour combinations. The HP SmartStream algorithm automatically generated unique design variations to create unique shrink sleeve labels decorating the bottles of this exceptional Lithuanian vodka. This was achievable thanks to leveraging the capabilities of the industry-leading HP Indigo digital presses. Indeed, the authors of this pioneering project seem to be making a point of it being "one small step for the digital print industry, one giant leap for the agency".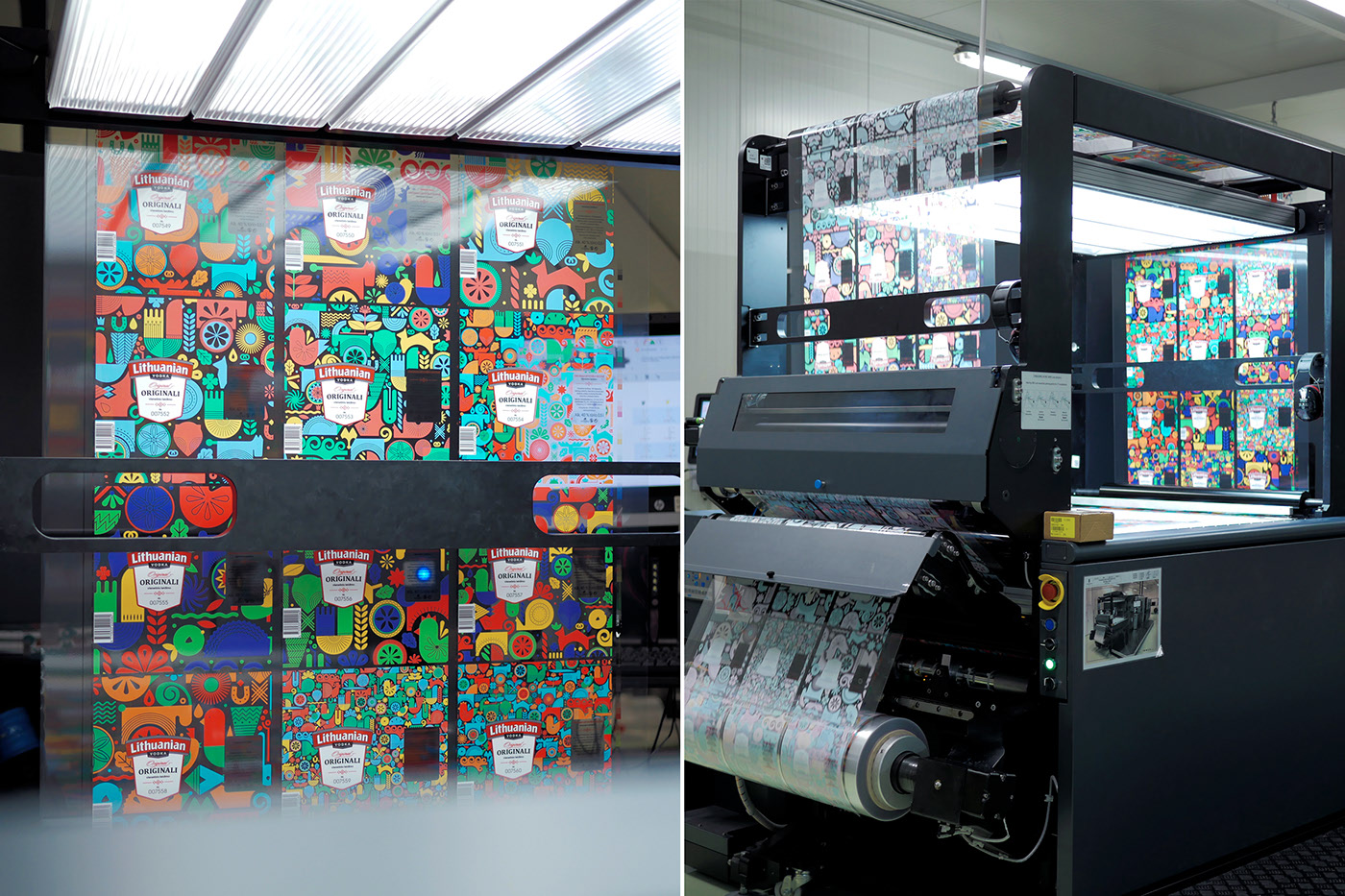 Source: https://www.behance.net/gallery/97433949/Lithuanian-Vodka-limited-edition
The digital printing of labels allows personalised projects to be made tangible.
The Lithuanian Originali brand is deeply rooted in the history of its country. It is a product that is well recognised in the market and draws its high palatability from a four-fold distillation technology. It wasn't easy to match such unique labels with a product that is so strongly associated with tradition but it was personalisation that did the trick. This trend has given many products their second youth, allowing them to reach new clients who value individualism and desire to stand out in a crowd. It allows positive brand associations to be reinforced and a close relationship to be forged with consumers. Nevertheless, many spirits producers are still reaching for conservative graphic design solutions associated with tradition, the brand's roots, and its longevity. However, considering the fact that a large number of customers (particularly younger ones) are making purchase decisions in stores, next to shop shelves, and within a few seconds, a unique heat shrink label can successfully draw attention to the product, boosting its sales. The limited-edition Nutella Unica jar labels are a perfect example of harnessing such solutions using HP's Indigo presses. Thanks to these unique labels, a million jars with the chocolate spread were sold very quickly. It is very probable that Lithuanian Originali is in store for something very similar which, thanks to the support of HP's solutions, has the potential to be truly revolutionary for its brand identity.
Congratulations to Immer Digital on executing this project!