Labels in the World – in the Spirit of Ecology
Not only do labels on product packaging fulfil an informative role but that are also a powerful advertising medium. Eco-labels help attract consumer attention and motivate them to make purchase decisions.
April 22 marks World Earth Day. What better an occasion to consider the issue more thoroughly and explore new possibilities that will allow our Printing House to be closer to nature and protect the natural environment. We are constantly endeavouring to take advantage of all the new environmental protection opportunities, which is why we are celebrating this year's World Earth Day with the support of DeLight Candles by creating limited edition scented soy wax candles. These unique candles have all been adorned with eco-labels to bring out the great potential of this new solution.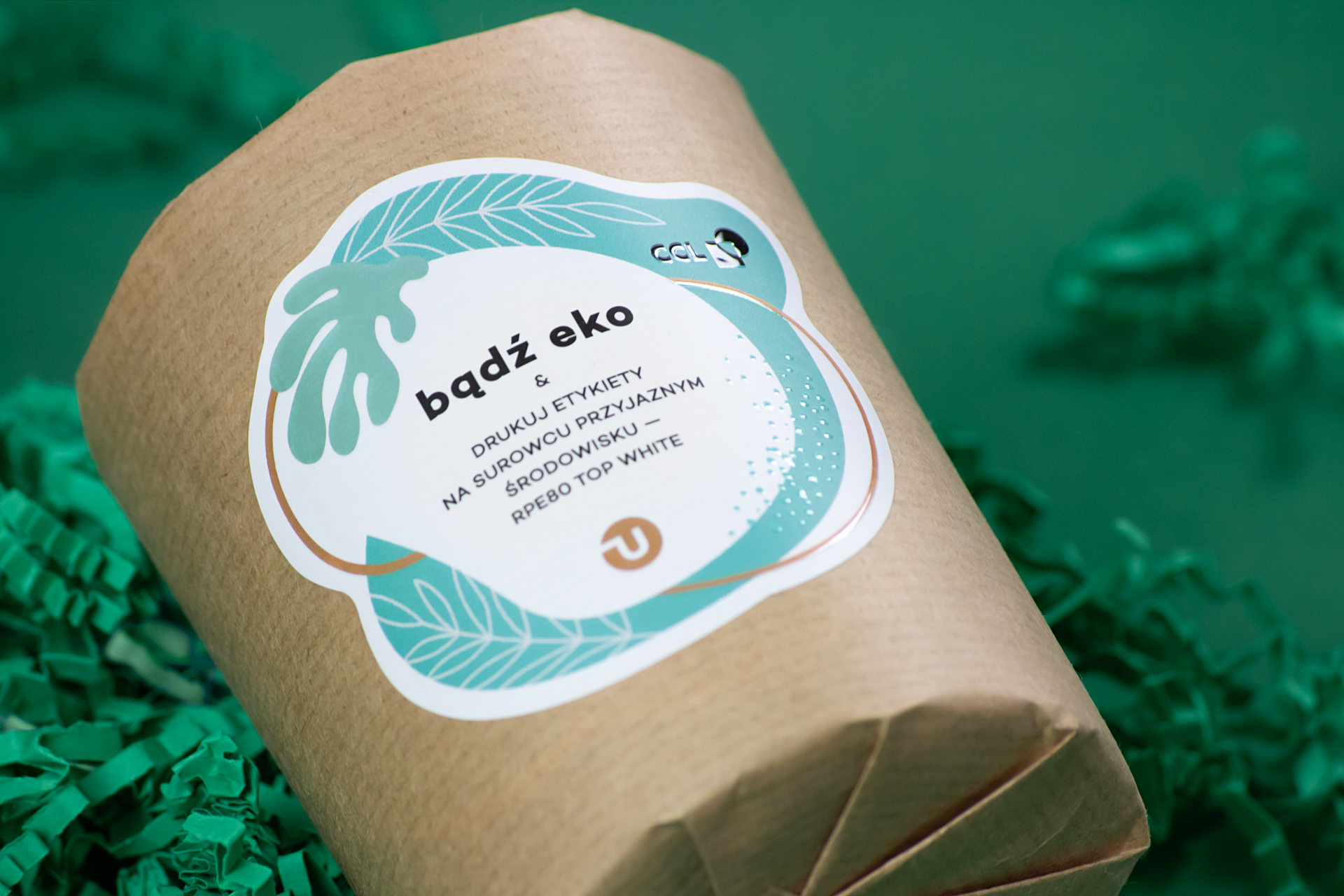 Eco-Labels – in Harmony with Nature
More and more consumers are demonstrating a high level of awareness in the context of the natural environment. All of these daily choices are aimed at protecting the natural environment and will bring far-reaching tangible results.
Caring for the environment and taking advantage of its resources rationally affect both our lives and the lives of future generations. Fostering the environment is not just down to the decisions of individual people – it is our common cause which is why more and more companies are striving to take environmentally friendly steps and decisions. We are proud to be among such companies and we express our responsibility in this scope mainly through the use of eco-technologies.

We have dispatched specially produced scented soy wax candles in cooperation with DeLight Candles to some of our Customers to mark World Earth Day. These limited edition candles with the free-spirited scent of palo santo are an ode to wandering across natural landscapes, creating an atmosphere that will help everyone relax and unwind. Every one of the candles is adorned with an eco-label demonstrating the potential of materials with recyclates. We firmly believe that this small gesture will encourage our Customers to make the right decisions when choosing the label substrates for their products.
World Earth Day is also an occasion for us to announce our newest environmentally friendly raw material, namely, white film with a recyclate additive. Some of our Clients have received personalised candles with this very label. Finishing options have also been used in the form of digital 3D varnish. This project is our attempt to prove that natural and recycled doesn't mean worse!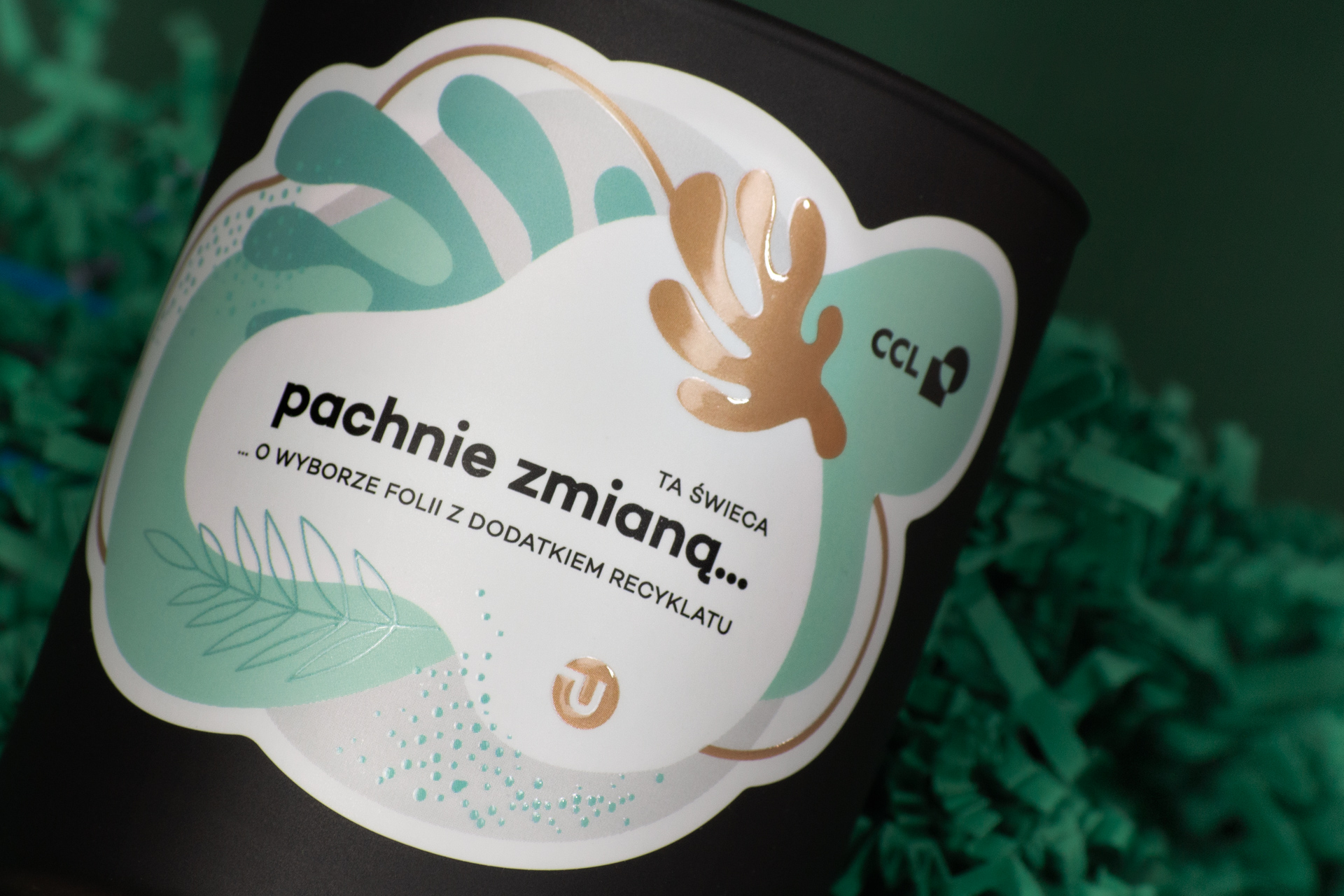 Our candle eco-labels were made from rPE 80 Top White. This environmentally friendly substrate comprises ⅓ recyclate – a material obtained within the waste recycling process. Our eco-labels give collected, recovered and processed waste a second life, which is clearly beneficial to the environment. Their re-use helps reduce the demand for new raw materials and reduces pollution.
We are convinced that such green eco-decisions are essentially an expression of a conscious thought process – a label with the addition of recyclate looks no different than a standard substrate and is also suitable for embellishments.
What has made these candle eco-labels so appealing?
The labels produced for these candles are also unique and distinct because of the meaningful graphic design. The eco-substrate selected by us allows a clear and vivid print to be obtained, similarly to substrates traditionally used for label printing. The eco-film does not, by any means, have to possess any worse properties. Although some thickening on the label is visible in certain areas, this seeming imperfection can easily be turned into an asset. This is a perfect opportunity to make the product stand out and highlight that it was prepared in line with spirit of environmental awareness and ecology.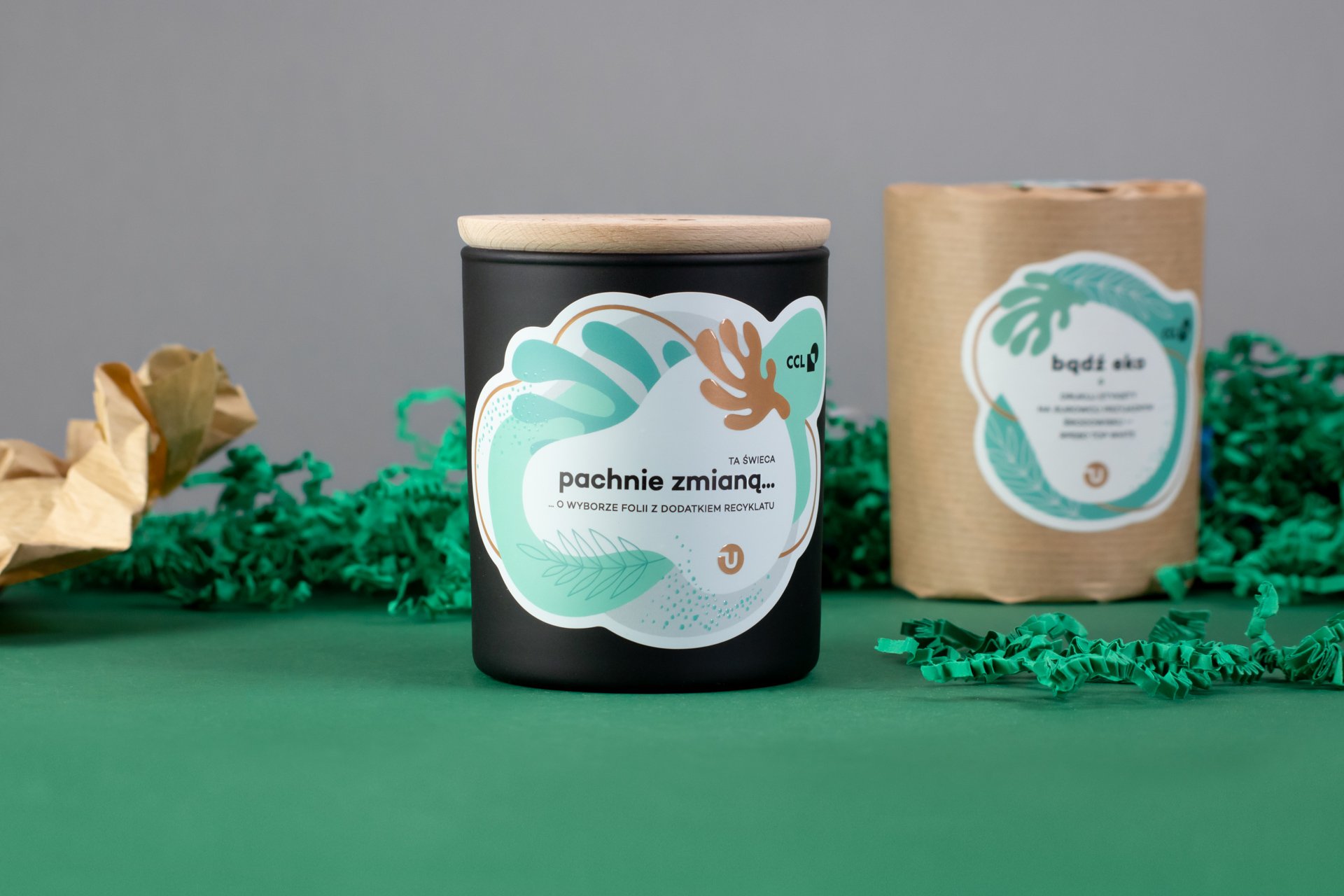 Apart from that, we have also harnessed the printing capabilities of the HP Indigo Digital Press in the context of personalisation. Personalised name labels constituted an added value of each set as they carry great emotional value.
The 3D digital varnish finishing on these labels added variety to their texture and such visible and tactile sensed dynamic textures capture consumer attention.
The graphics on the labels were meant to evoke thoughts about nature and the environment, which tied in well with the World Earth Day and the trend to care for and protect the natural environment.
Not Only Eco-Labels but also Less-Waste Candles
The eco-labels on the candles are not the whole story. These labels are also perfect for all products designed specifically with the aim of not harming our planet. In order to emphasise this, the candles that we sent out to our Customers were wrapped in ordinary eco-friendly grey kraft paper, packed in cardboard boxes, and filled with sizzle pack. This approach to packaging is not only a sign of equality between minimalism and ecology but also an increasingly popular solution.
And the wooden engraved tops were the crème de la crème of it all.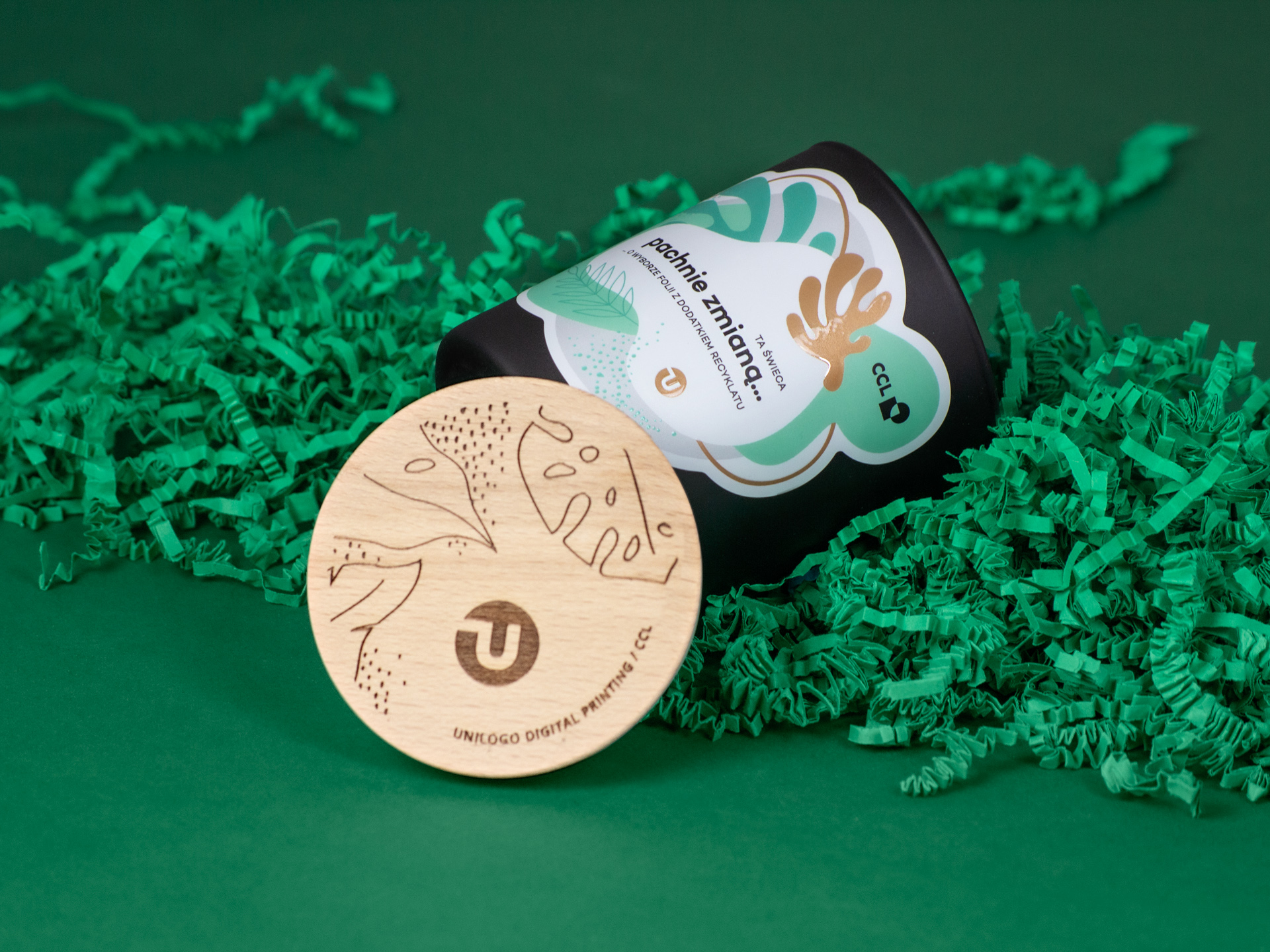 Once the candle is consumed, the packaging can be re-used as a trinket to store other items and the matt black jars should perfectly complement most décors.
We had a whale of a time working on this project and we hope that all our efforts will indeed pay off!