What is so unique about holographic film and what are its uses?
Holographic film is an interesting type of synthetic material. Due to its outstanding properties, it is increasingly used for promotional purposes and for securing products. Holo film is also an excellent material for stickers and labels what with it being incredibly eye-catching, capturing the attention of potential clients each and every time. Holographic films can be printed on using several popular printing techniques.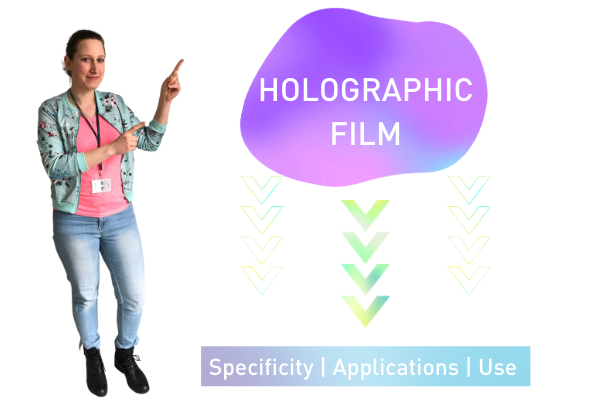 The so-called "holo effect" is gaining more and more popularity across many industries ─ starting from the beauty sector, through clothing and gadgets, ending on packaging. This results from the unique properties of this raw material ─ the shining rainbow coloured backdrop can be one of the many label elements catching the eye of consumers. Due to the substantial decorative qualities of the substrate, product labels printed on holo film make packaging more attractive and, ultimately, more often than not translate into higher sales.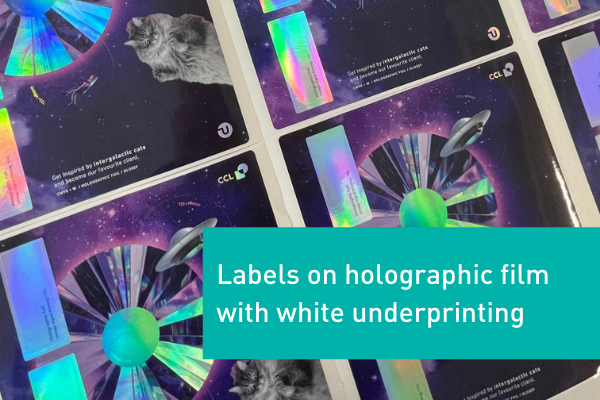 What is holographic film?
Putting it simply, a hologram is a kind of photograph that is created and printed so that it ultimately seems to be three-dimensional. Thanks to this, the 3D effect is visible on a flat, 2D substrate.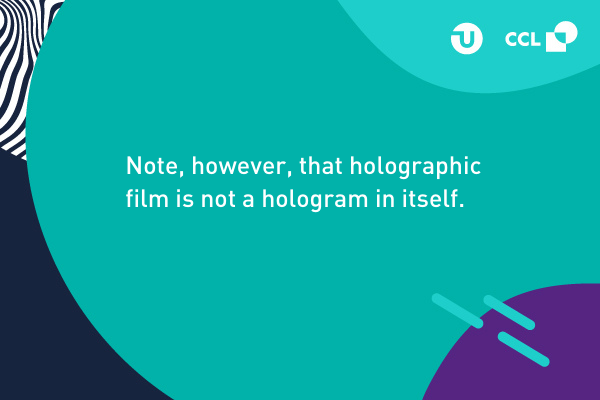 It is a thin synthetic material on which three-dimensional images are then printed. The whole process is done using a special laser. It consists of recording one single image at different angles and then printing all the images on synthetic film. In effect, a three-dimensional image can be seen on a flat surface.

What can holographic film look like?
Mannufacturers offer various kinds of holographic films of different appearances. There is usually only one simple image (or, optionally, a group of images) on the material, which are then repeated in a series. This usually looks like a vague pattern that does not resemble any specific object. Sometimes, however, holographic films have a series of shapes (circles or stars) on their surface.
What's more, holographic films can have different backgrounds. These backdrops are usually shiny and metallic.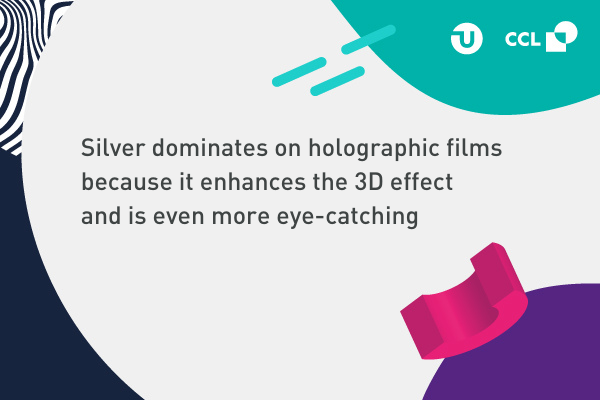 There are sometimes golden holographic films as well as materials in different shades like red, pink, blue or green.
Holographic film can also sometimes have a clear background with just some holographic images. These kinds of decorative elements can be used to adorn cards and books, etc.
What are the specific applications of holographic film?
Holographic films have many different applications – self-adhesive labels, for instance, are used as holographic seals and security stickers. They are also used as a different kind of security on bank cards and banknotes. This is because holograms protect against forgery. When on CDs or computer games, they are used as a measure protecting copyrights.
See also: Label Security Measures
Self-adhesive holos ─ eye-catching, rainbow coloured labels!
Self-adhesive holographic film is also important in marketing. Since holo film is attractive and eye-catching, it is commonly used on promotional materials and gadgets. What's more, it can also be used to create original labels for different kinds of products.
Self-adhesive labels on iridescent film make every project unique and exceptional, setting the packaging apart out from its competitors.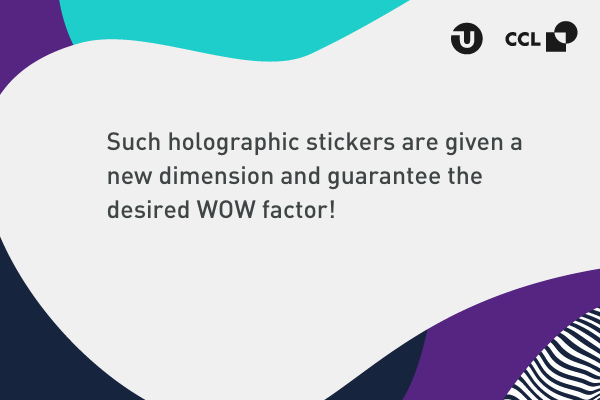 They look great especially on cosmetic products and bottled drinks, both alcoholic and alcohol free.
It's also worth remembering that labels on holographic film are best secured with a shiny laminate that brings out all the attributes of this raw material. A matt finish will greatly reduce its qualities, making the printed matter look "flat", losing its rainbow shine.
How to print on holographic film?
Holographic film is the perfect substrate for printing! Any given project can be printed on a three-dimensional substrate to create a unique label that is certain to catch the attention of consumers browsing shop shelves.
What's even more important is that many printing techniques can be used on holographic film. The printing options available:
Digital printing – for fast turnaround times and personalisation. It's particularly useful when printing small and medium quantities. Due to the competitive print turnaround times and no minimum print runs, stockpiling can be avoided, thus, reducing storage costs.

Offset printing – another example of a popular printing technique that is excellent for large orders. It is more time consuming because it requires printing plates to be prepared;

Flexographic printing – allows vibrant colours to be achieved and brings consistency, making it one of the most reliable ways of producing high-quality large orders. Similarly to offset printing, it also requires the preparation of printing plates, which limits the personalisation possibilities;

Screen printing (silkscreen or serigraphy) – one of the most time consuming methods that is best suited for small print runs but is very durable.
The selection of a specific technique depends on the needs and requirements of a specific Client and the type of order.
If you are considering using holographic film on your product, we will be very happy to advise you on how to prepare your design for printing using this substrate.
Also check out: Innovative Labels with Embossed 3D Varnish